BRAINSTREAM
BRAINSTREAM | SOI Plus Handbag Light & USB Power Bank
AU$77.50
or make 4 interest-free payments of $19.38 AUD fortnightly with
More info
Automatic Handbag Light SOI.+ with USB Power Bank 2000mAh
SOI, the automatic handbag light, solves this problem of not well-lit handbags and in consequence, one can't find anything. And now the SOI.+ goes even a step further. As a clever 2 in 1 accessory along with the light comes an integrated power bank with a capacity of 2000mAh to recharge your iPhone etc.. Simply plug your phone (or other devices) into the USB port to access the reserve of energy and you will never again be caught out with a flat battery on one of your mobile devices.
The handbag light function works as in any of the SOI handbag lights. It lights up when it senses an approaching hand or a gentle touch and after a given time period of about 10 sec it switches off again, fully automatically and energy efficient. Thanks to high-quality LEDs and optimised control circuit programming, power consumption is minimal and lighting power increased.
Specifications SOI Plus sensory handbag light and power bank

SOI Plus lights up when tapped while searching in your bag. It turns off automatically after 10 seconds

Power bank for smartphones and other electronic devices in need of a charge

2000mAh rechargeable battery

Colour Black & White
Origin
Germany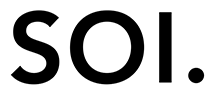 Availability:
In stock! Ships next 24 hrs!
Shipping:
Shipping rate calculated at checkout
Depth
15.00