SANDS ALIVE
SANDS ALIVE! | Neon Frenzy Play Sand | UV Black Light Set
Neon coloured glowing kinetic sand set

with UV black light glasses included
The sorcerous Neon Frenzy kinetic sand by Sands Alive! glows rather magically under UV black light! Kinetic play sand is fun to use, super-easy to mould, can be reshaped again and again, is anti-bacterial, non-toxic and made from natural ingredients. Playing with Sands Alive helps developing imaginative and fine motor play skills. Suitable for children 3 years and older but totally addictive for any age! Box includes 680 grams of fluorescent sand. You have the choice of two sand colours, either Neon Orange or Neon Green. Also included are UV black-light glasses powered by 2 x CR2032 batteries (supplied), play tray, 4 castle moulds and brick and pebble rollers with interchangeable handle.
Specifications for Sands Alive Neon Frenzy Starter Set
1 bag of coloured sand (0.68kg)

4 sand tools (

2 x sand sculpters

, sand shaper,

smooth roller)
Sand colours: Neon Orange and Neon Green
Origin
Australia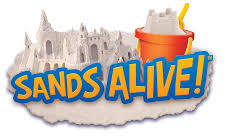 Availability:
In stock! Ships within 24 hrs!
Shipping:
Shipping rate calculated at checkout
Depth
13.00
It's very nice the sand with the shape, my kids had fun, thanks
Mery.malak@hotmail.fr